Listen to them telling stories from Tsinghua and China

Coming from all over the world
With different cultural background
In Tsinghua University
A land of innovation and inclusion
They present the Tsinghua tradition of self-discipline and social commitment

And the booming Chinese society
To the world arena
They are ordinary students from Tsinghua

And also Tsinghua people telling story of China to the world
They are the first batch of 'Global Student Ambassadors'

Of Tsinghua University
As outspoken storytellers, they grasp the dynamic pulse of the times
Although it's getting dark, the office of Huang Ernuo's online education center was still lit. Wearing headphones, turning on the camera and microphone, he smiled brightly and started to concentrate on hosting an international conference on online education.

After entering the Schwarzman College in 2018, Huang Ernuo has been focusing on the research of higher education, but it had never occurred to him that one day he could share Tsinghua's online education experience with experts and scholars all over the world.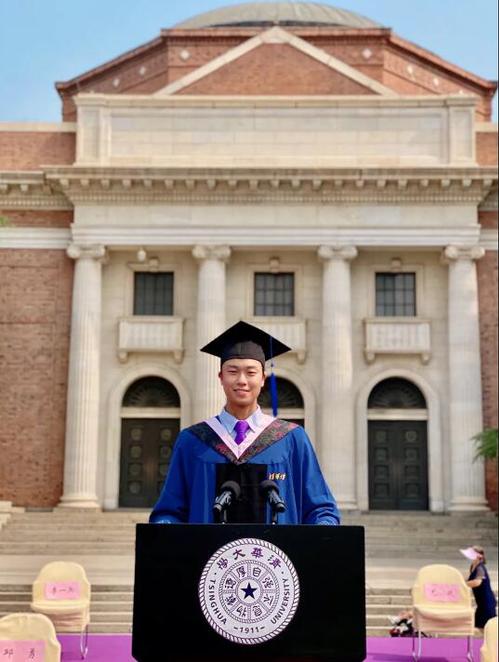 Huang Ernuo at the Commencement
In 2020, with the outbreak of the COVID-19 pandemic, Tsinghua University took the lead in using information technology to promote online teaching in an all-round way, "postponing the back-to-school day, and starting classes as scheduled". Huang Ernuo, always interested in education, chose to work in Tsinghua University Online Education Center upon graduation.

Huang Ernuo keenly grasped the development opportunity of 'online education'and conducted a great deal of theoretical research and practical innovation of online education with the teachers of the Center. In the light of his own research results, he accelerated international cooperation with the Global MOOC and Online Education Alliance, global open classes, global integrated teaching, boosting the development of online education in Tsinghua.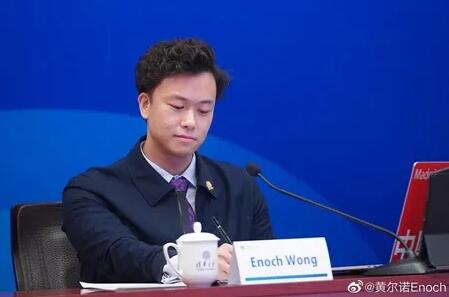 Huang Ernuo in an online meeting
With this as a starting point, Huang also promoted the exchange and mutual learning of online education at home and abroad, presided over international conferences with a total length of more than 100 hours, and presented the world the modernization process of Chinese education through exchanges with different scholars.

In the process of international communication, Huang Ernuo detected the international community's stigmatization of China's anti-pandemic efforts and the lack of Chinese voice on a broader stage in the world.'I have a deeper understanding of the significance of telling Chinese stories and spreading Chinese voices well. As a Chinese, I also hope that I can contribute to showing the world a real, three-dimensional and comprehensive picture of China.'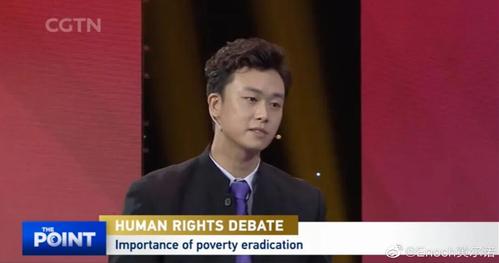 Huang Ernuo participated in CGTN China-US Human Rights Debate Program
As a result, Huang Ernuo took part in the 'CGTN Global Host and Journalist Recruitment Campaign' of the Central Radio and Television General Station. Instead of competing for places, Huang noted that his first purpose was to improve his sensitivity in discovering stories and his ability of telling stories well through this competition.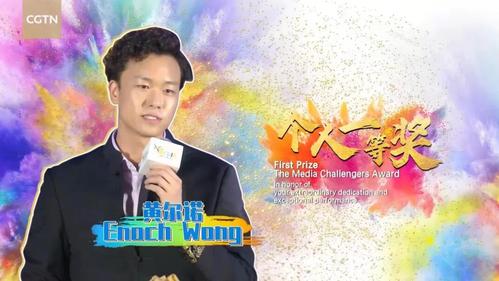 After several months of fierce competition, Huang Ernuo won the first place in the individual contest as well as the 'Golden Mike Award', which marked a new starting point for him. He would continue to pursue the mission of telling stories of Tsinghua and China well on a broader stage.
Zhang Ruiru, a student of the Department of Foreign Languages and Literatures, also wrote a wonderful episode about 'telling Chinese stories' in her own way.
During the pandemic, this Tsinghua girl from Wuhan delivered a speech entitled 'The Pandemic Made Me Understand What Is 'Many Hearts with One Mind' in the live broadcast of 'New Era Lecture Hall' of China Daily. With concise and powerful language, she presented her mental journey from difficulties to independence to hopefulness and confidence, and mapped China's determination and efforts to combat the COVID-19 pandemic from the perspective of an individual's stories.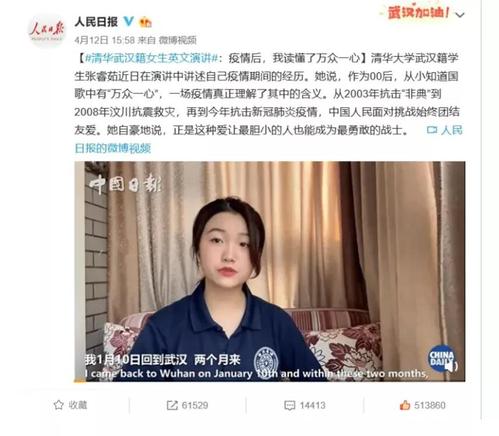 Following the speech, related topics ranked first in the hot search list in Weibo with a spread of more than 500 million, which also becoming a hit on overseas media. Zhang Ruiru noted, 'In the future, I wish I could open a YouTube account to present the lives and stories of young Chinese in a way that overseas audiences can understand and are willing to understand.'

As keen observers, they explore the vibrant campus life
At the foot of the green Western Hills, by the vast Eastern Lake ...' stands the ancient and verdant Tsinghua campus. What is the life like here? You can find some answers in the VLOG of Katherin Thouvenin.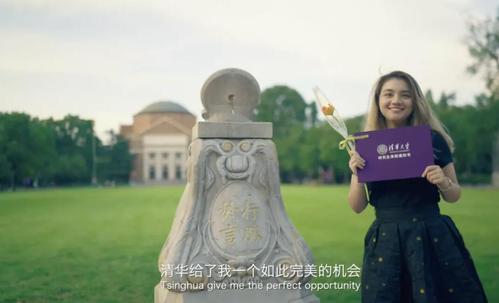 Katherin Thouvenin participated in freshmen video shooting of Tsinghua University in 2020
Katherin Thouvenin from France is a second-year master student in the School of Journalism and Communication. She took part in the freshmen video shooting event when she entered the university in 2020, which opened the door of a video recording life for her. For an international student, the unfamiliar but fresh campus atmosphere undoubtedly holds unique attraction. She began to record her life and discover stories in the form of campus VLOG.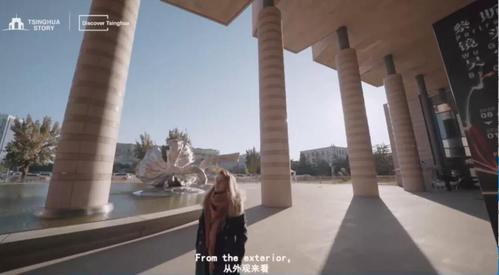 Katherin Thouvenin participated in the filming of 'Discover Tsinghua'
At first, as a novice in video shooting, she was unavoidably nervous. She was required to introduce the historical relics of Tsinghua University Art Museum in one episode of "Discover Tsinghua" videos. To ensure professionalism and accuracy, Katherin Thouvenin consulted reference materials and studied history, while forcing herself to jump out of the comfort zone and face the camera with a more natural attitude. This experience marked the beginning of her enjoyment of such recording and expressing.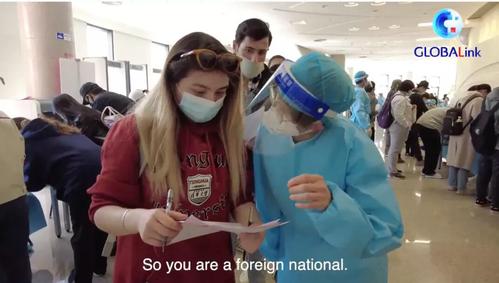 Katherin Thouvenin filmed a Vlog about COVID-19 vaccination in Tsinghua.
Today, Katherin Thouvenin can tell Tsinghua stories by the camera with more ease. One story after another of Tsinghua is displayed through her meticulous video production, including campus preventive measures against the COVID-19 pandemic, orderly vaccination on campus, anxiety of freshmen upon their entrance in the university and nostalgia for Tsinghua in the graduation season, among other scenes.

Ekaterina Kaligaeva from Belarus is also among the students sharing campus life in Tsinghua. Chinese is her fifth language. While learning the language, she is always attracted by Chinese traditional culture and history. She often tells about 'every starry sky' discovered in Tsinghua on her social media.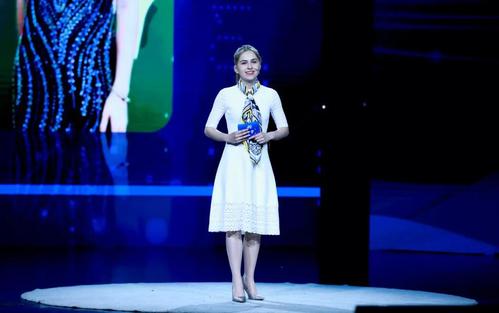 Ekaterina Kaligaeva delivered a speech at the 'University · Open' forum during the 110th Anniversary of Tsinghua.
Out of the Tsinghua campus, Ekaterina Kaligaeva wishes to know more about the vast land of China from her own perspective. In the CCTV documentary 'Dreamcatcher in Songs', Ekaterina Kaligaeva came to Yuying Village, Luanping, Hebei Province to observe the development of rural areas in China, experience the rapid development of science and technology, and approach the extraordinary stories of every ordinary person.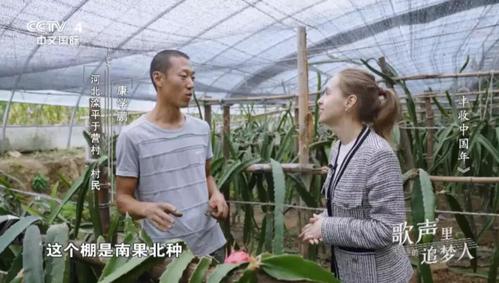 Ekaterina Kaligaeva visited Yuying Village, Luanping, Hebei Province to interview and video
The experience of Ekaterina Kaligaeva has also influenced many international youths curious about China. More and more international students are attracted by China in the course of development and come here to find more about this vibrant, open and innovative land in their eyes.

The same is true of Natalie Meyer, an Australian student from Tsinghua University Global Financial News Program, who is not only active on the big and small stages inside and outside the campus such as the international admissions information session, the New Year's party for international students and scholars, and the live broadcast room of CGTN global reception room, but also observes and records her life in Tsinghua and China from the perspective of a passionate and young international student.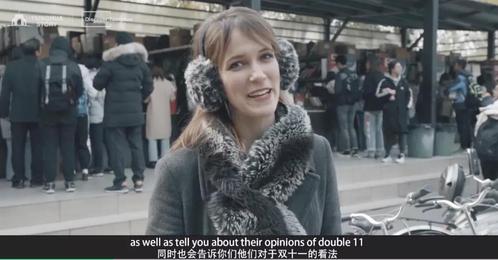 Natalie Meyer 's Interpretation of China's 'Double 11' Sales Even from the Perspective of International Students
Ekaterina Kaligaeva shared their common aspiration, 'I want students around the world to be aware of Tsinghua and know about the great university, so that Tsinghua can go to the center of the world stage.'
As passionate explorers, they tell extraordinary stories about China
Coming to China with his parents as a child and having lived in Beijing for 16 years, Nik Gu from Russia can speak Chinese in an authentic Beijing accent. Regarding China as his 'second hometown', Nik Gu is studying in the Department of International Relations of Tsinghua University School of Social Sciences, constantly exploring a broader world stage.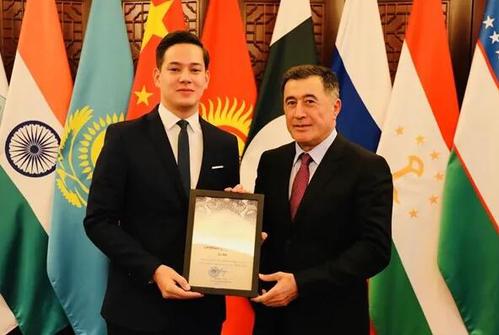 Vladimir Norov, Secretary-General of the Shanghai Cooperation Organization, presented Nik Gu with the award of 'Best Position Paper'
Soon after he entered the university, Nik Gu took part in the 'Second Tsinghua University Model SCO' event organized by the Tsinghua University Student Global Competence Development Guidance Center and the Shanghai Youth Platform, winning the honor of 'Best Position Document' with outstanding performance. Since then, he has been connected with with the Shanghai Cooperation Organization, making continuous progress towards the goal of becoming a young ambassador connecting China and Russia.
He worked perseveringly to fulfill his mission. One night in September, Nik Gu suddenly received a message from an American classmate, 'Your speech has become famous!'

With a careful examination, Nik Gu found that his speech about 'My China Story' delivered in the 'Youth Reception Room' of China Daily had been forwarded by Hua Chunying, then spokesperson of the Ministry of Foreign Affairs, on Twitter.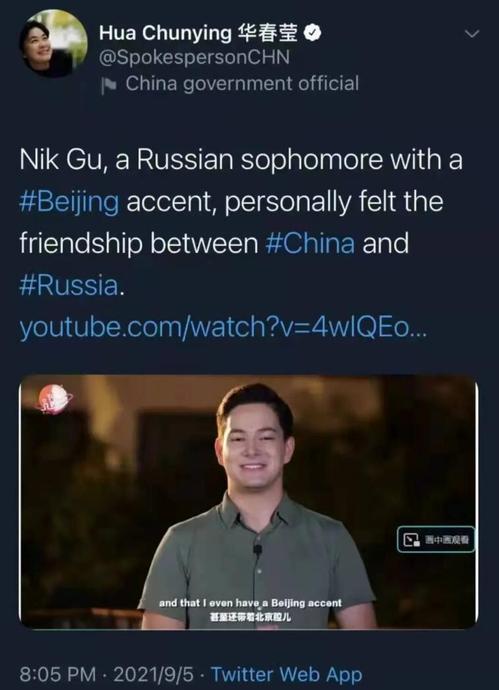 Nik Gu's speech was forwarded by Hua Chunying.
When it comes to the recording of 'Youth Living Room', Nik Gu still remembers the drizzling rain in Beijing that day, which lasted until late at night. He recalled, 'Despite the very long time and hardships taken to do the recording, we could see the Great Wall, a vast and grand vista, whenever we looked up from where we recorded the program.'

There are countless ways to share Chinese stories, but 'truthfulness' is an unchangeable principle. As a deep thinker, Nik Gu often put forward his valuable opinions to the program team. 'To make the program more down-to-earth, it is necessary to present more authentic Chinese life, so that we can strike a chord with international friends.'

Across a vast geographical distance, and the gap between day and night, Cassandra Ler Yiying, who had to stay in Singapore because of the pandemic, also contributed her talent to the global communication of Tsinghua by means of 'cloud' participation. At the Times Higher Education Forum Global Education Exhibition and the Cloud Conference of the Asian University Alliance, Yiying shared her study and life experience in Tsinghua and outlined the prolific picture of online education development in Chinese universities.

Acquainting the world of what is happening in China is the mission of the Global Student Ambassadors. The seeds of 'telling stories of Tsinghua well' has taken root and sprouted in their hearts, which gradually grow and blossom on the occasions of international communication. Darine Razmadze from Georgia has now graduated from the School of Social Sciences, and she continues to engage in academic research on international relations with a keen interest in China, hoping to contribute to the friendly relations between China and Georgia.
With words and lenses, Global Student Ambassadors
Try to build bridges between themselves and the world
And between Tsinghua and the world
Many of them are epitome of Tsinghua students
Active in the International Communication Stage
And also good storytellers about China in the new era.
Inspired by them,
More and more students from Tsinghua
Stand out under the spotlight
Telling the world stories of Tsinghua
Which are more open, inclusive and resilient
Showing the world a credible, lovable and respectable image of China
More moving stories
Are still being written slowly